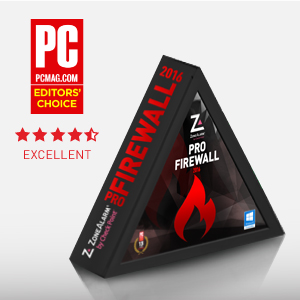 ZoneAlarm's Firewall has been an industry leader for more than a decade, and our 2016 product line is no exception. PC Mag's Neil Rubenking recently awarded ZoneAlarm PRO Firewall 2016 the Editors' Choice award, giving it 4.5/5 points and an Excellent rating overall. Rubenking also gave ZoneAlarm's Free Firewall 2016 the Editors' Choice award in the free Firewall category, giving it 4.5/5 and an Excellent rating overall. ZoneAlarm's Free Antivirus + Firewall received an Excellent rating, receiving 4/5 overall.
One Year, Two Editors' Choice Awards
In Rubenking's review, ZoneAlarm PRO Firewall 2016 is described as a drool-worthy choice for Firewall enthusiasts, and "decidedly more advanced than its free counterpart". He cites advanced features including the ability to configure network zones, generate rules and resist attacks, and commends additional features including identity protection, Do Not Track, online backup and password management. Also noted is the fact that PRO Firewall no longer features a third-party toolbar, "which should please some users". ZoneAlarm PRO Firewall is suitable for any business setting, and features robust and effective firewall features.
Free Versions, for Personal Use
The review of ZoneAlarm Free Firewall 2016 is equally solid, giving the product a score of 4.5/5, awarding it the Editors' Choice in the Windows firewall category, and giving it an Excellent Editor Rating. The free firewall, for personal use only, is commended for stealthing all ports and managing programs' access to Internet and network. The review also notes excellent bonus features including free 5GB of online backup and two-part identity protection (both of which also come with the PRO version, of course).
As with ZoneAlarm PRO Firewall, the free version no longer comes with a toolbar or homepage changes. In addition to providing hardy firewall protection, both the PRO Firewall and Free Firewall draw upon Check Point's Defensenet database for configuring permissions for known good programs, a resource that other firewalls simply don't have. Both firewalls also come with behavior-based OSFirewall.
ZoneAlarm's Free Antivirus + Firewall 2016 received an Excellent Editor Rating, scoring 4/5 overall. Rubenking notes that the product is "an excellent choice if you don't want to install a full security suite." It combines powerful antivirus protection with a "top-notch firewall component" and includes 5GB of online backup, credit monitoring, and identity protection.
We're proud of these results, and honored to be recognized by PC Mag, the leading source of information in the PC industry.